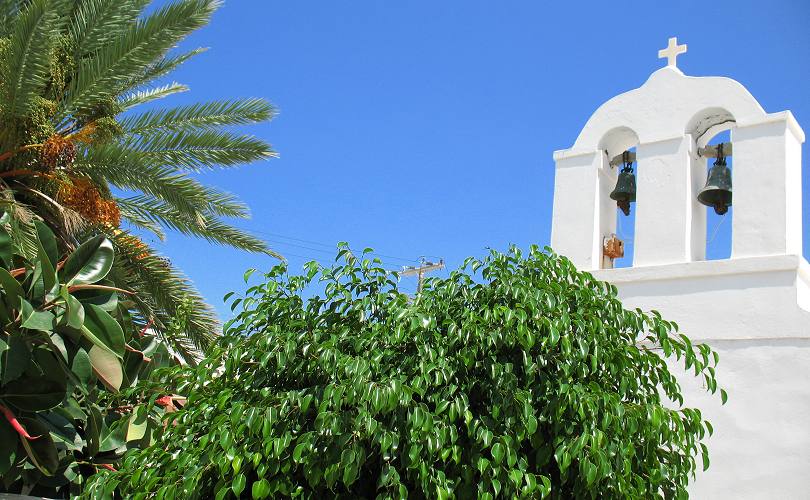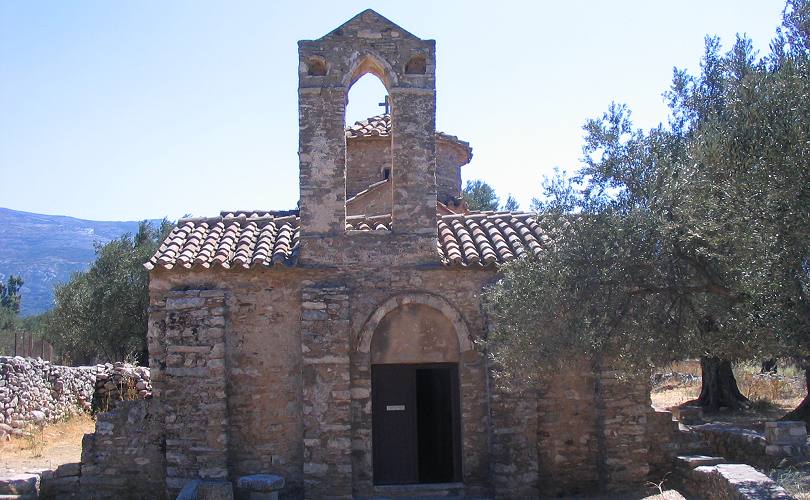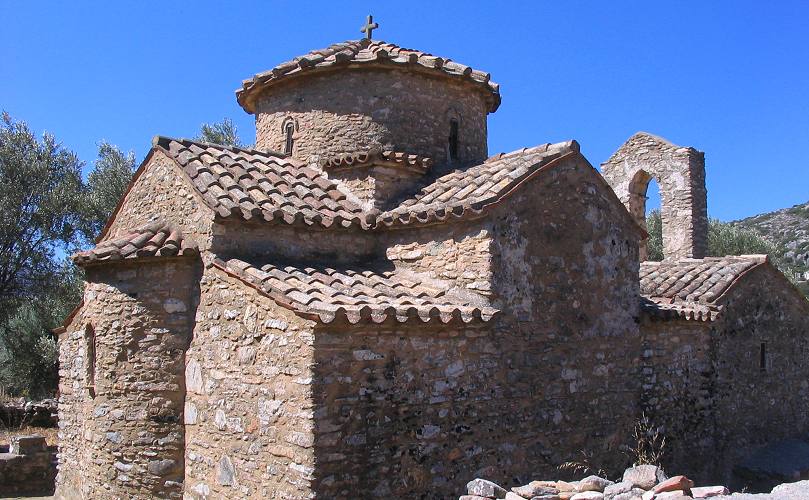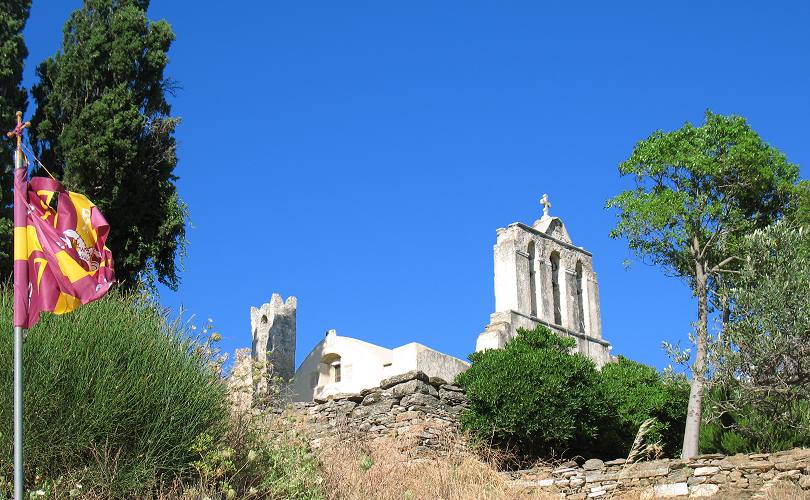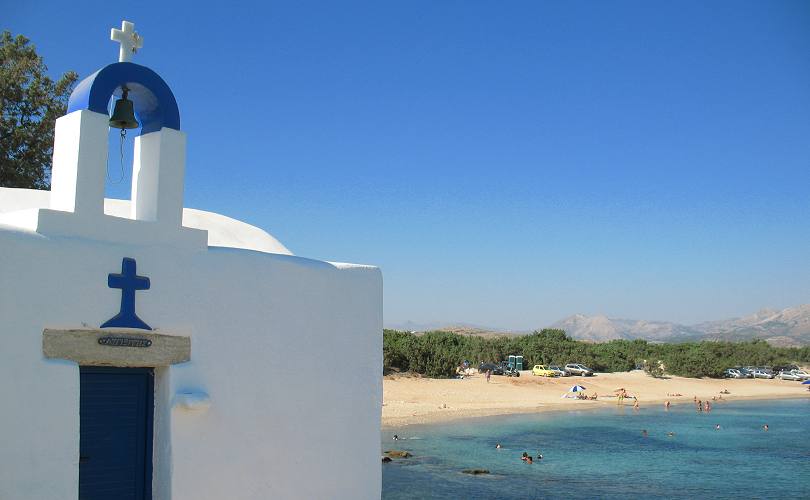 Churches on Naxos Island
Naxos is home to a remarkable abundance of Byzantine churches and many of them have exceptional frescoes from the 9th to the 15th century. The number of churches with frescoes is estimated at around 120 –out of a probable initial total of about 200, including those with iconography that has been found to have been whitewashed up to five times.

Theologaki
Naxos Town (Hora)
Built in a cave with frescoes since 1200
Panagia Myrtidiotissa
Naxos Town
Built on an islet at the harbour of Naxos Town
Agios Georgios
Naxos Town
Saint George
Beautiful church in a romantic location at Saint George of Naxos Town.
Agios Hryssostomos Monastery
Naxos Town
Beautiful monastery situated on a hill side with stunning view. It has been assumed that it was built in 1606.
Panagia Pantanassa
Naxos Town
Once part of a Byzantine monastery and famous for its very early icon of the Virgin.
Agia Kyriaki Kehron
Vivlos (Tripodes)
area
Cross shaped, single dome church with frescoe remains since 13 AD
Theoskepasti (Ag. Mamas)
Potamia
Beautiful church since the second half of the 9th century.
Agios Artemios
North to Kinidaros
Beautiful church since the 18th century.
Agios Akepsimas
Sagri area
Three-apsidal church since the 6th century. Two chambers were attached in the south part of the church during the byzantine era.
Saint George Oskelou
Sagri Area
Single space church with frescoe remains since 1286 AD.
Agios Nikolaos
Sagri Area
Single spaced church with dome. Three layers of frescoes dating back to 1270 AD.
Panagia Protothroni
Halki
Since 9th century. On the inner walls are five layers of fine frescoes belonging to the Early Christian, middle Byzantine and late Byzantine periods.
Agios Georgios Diassoritis
Halki
Since 9th century with excellent frescoes.
Panagia Drossiani
Near Moni
(Halki area)
An Early Christian, tri-apsidal church with a dome. The earliest layer of frescoes dates to late 6th – early 7th century.
Agioi Apostoloi
Metohi
(Halki area)
Beautiful church with fine frescoes remains since 12-13 AD.
Panagia Rahidiotissa
Halki area
(Monitsia)
Beautiful church fine frescoes and wooden screen.
Daminiotissa Virgin
Kaloxylos
(Halki area)
Exceptional architecture with two layers of frescoes since 12 AD..
Panagia Filotitissa
Filoti
One of the most beautiful churches in Naxos Island with marvelous icons and marble screen.
Koimisis Theotokou
Filoti
Nice church with excellent marble screen.
Panagia Apeirathitissa
Apeirathos
One of most remarkable in Naxos. With caved marble screen and icons of post-byzantine art.
Agios Hryssostomos
Apeiranthos
Beautiful church since 1656.
Theotokos
Near Apeiranthos
With outstanding frescoes (13th century).
Panagia Argokiliotissa
Near Koronos
The church boasts a miracle icon which every year (first Friday after Easter) attracts thousands of pilgrims.
Panagia Giallous
Agiassos
Single space chapel since 1290.
Faneromeni Monastery
On the road
Galini – Apollon
Since 17th century.