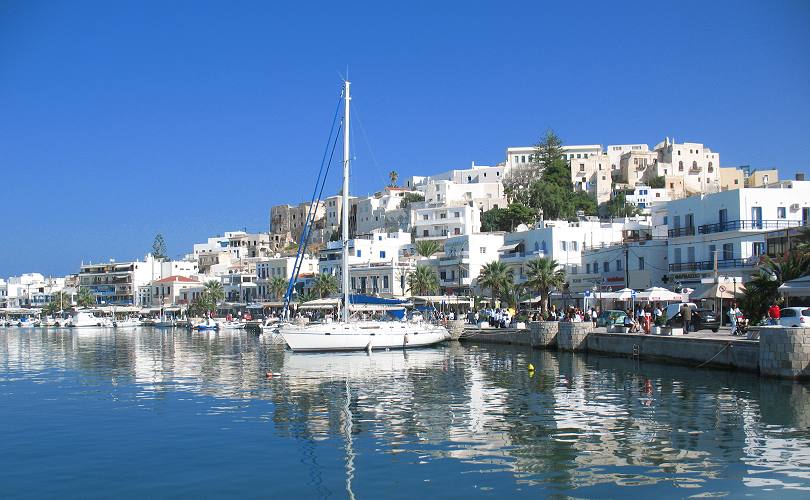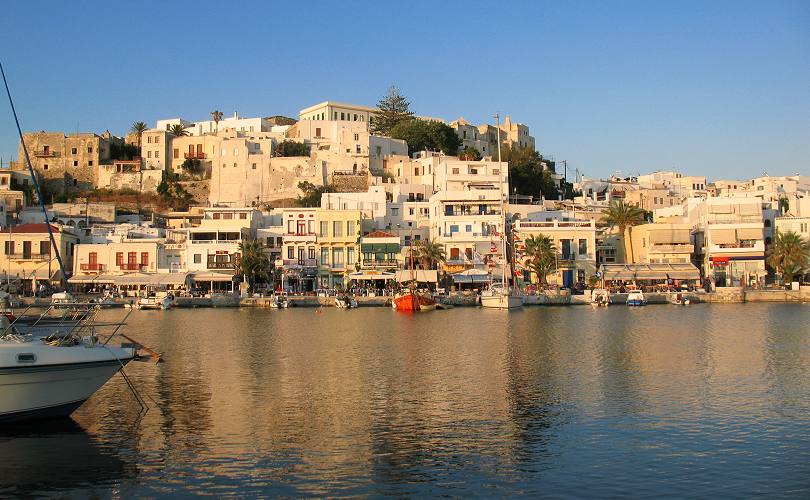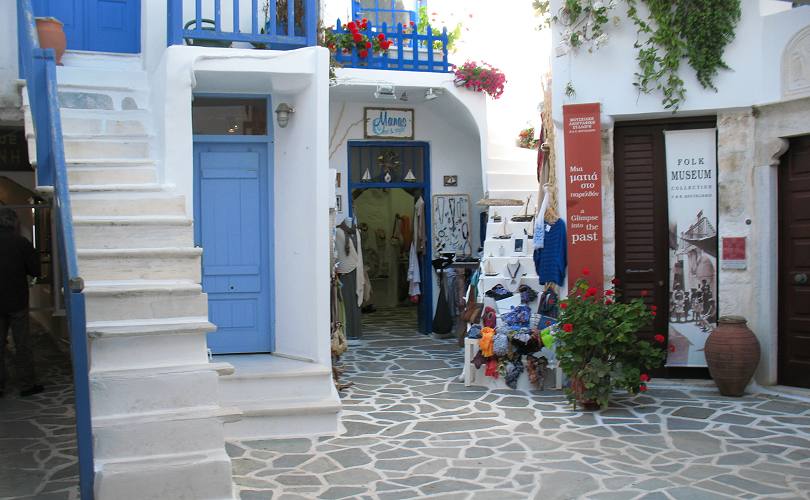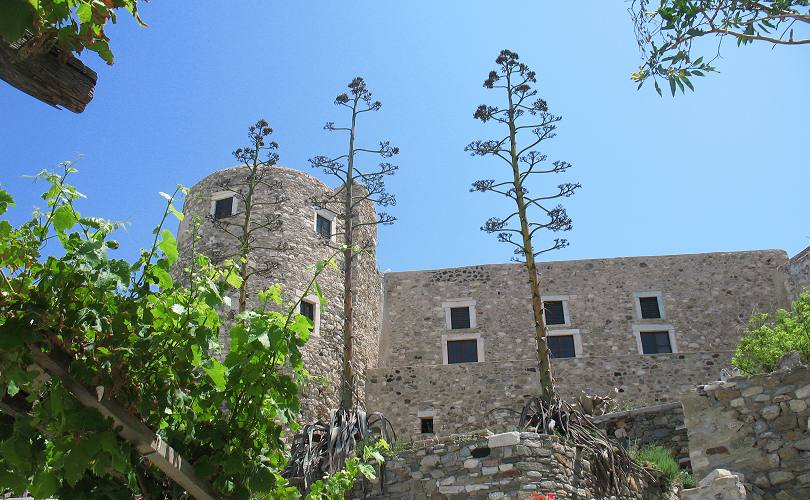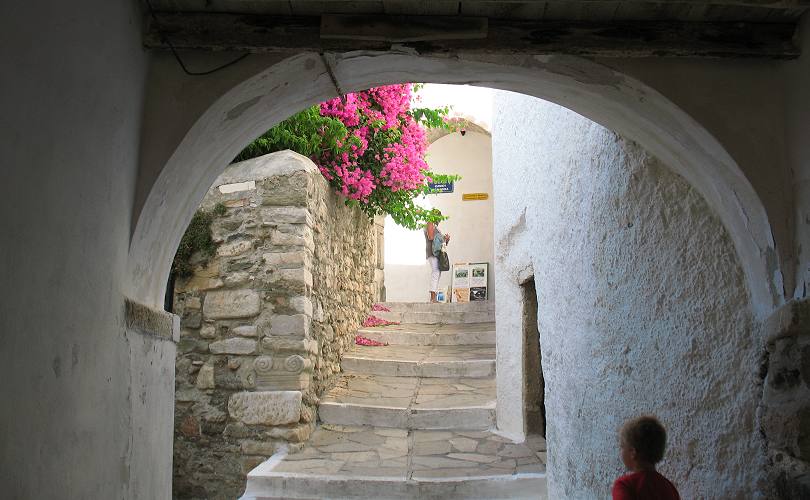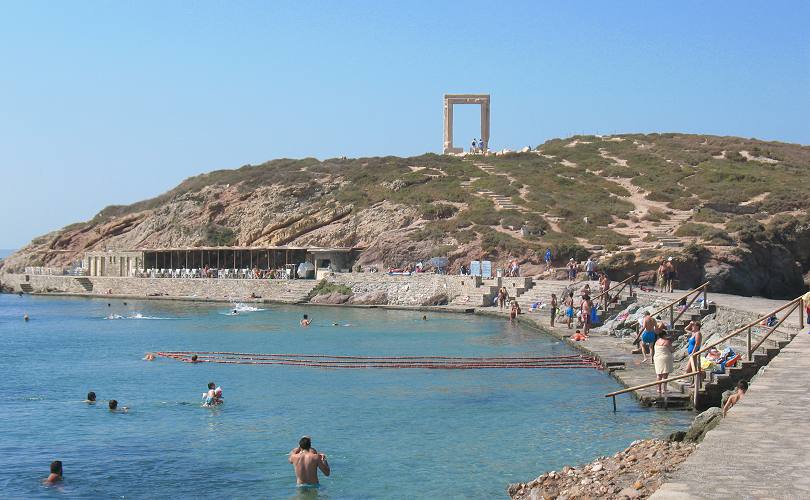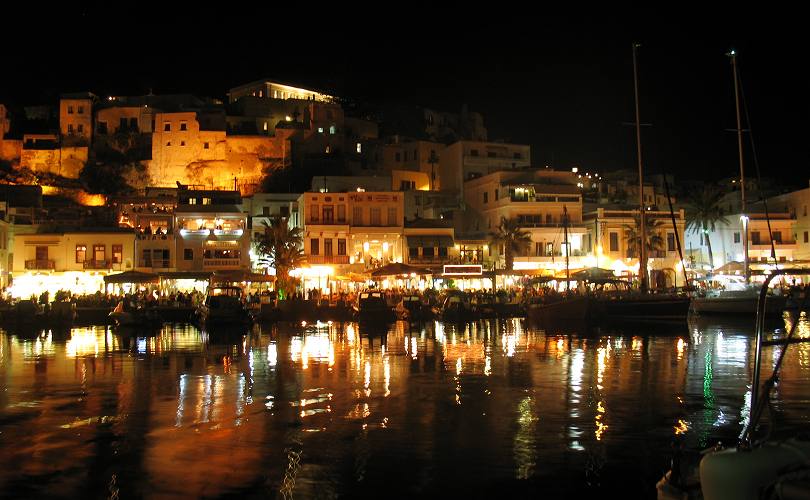 Naxos Town
Naxos Town (or Hora) on the west coast is the island's port and capital and it is the arrival point for all but air visitors. The town feels like four towns joined together: the port with the waterfront, the Old Town with the Venetian Castle (Kastro) and Saint George Beach greater area
Naxos Town is a fine Cycladic town, with twisting narrow streets and alleys originally intended to confuse invading marauders.The Old Town, up on the hill, is divided into two neighbourhoods: Bourgos where the Greeks lived, and Castle (Kastro) above, residence of the Venetian-Catholic nobility. Most of the Castle's current residents claim descent from the Venetians, and many of their grandparents' tombstones in the 13th-century Catholic Cathedral boast grand titles. The cathedral was founded by Marco Sanudo, whose own palace, can be seen directly across the square. Only one of the seven original towers of Kastro survives.

During the Turkish occupation Naxos had a reputation for its schools. In the Kastro there was the School of Commerce, and a school run by Catholic friars, attended for two years by the Cretan novelist Nikos Kazantzakis of Zorba the Greek fame. One of the school's buildings, not far from the Catholic Cathedral, is now an Archaeology Museum with a collection of Cycladic figurines, Mycenaean pottery, a Roman mosaic of Europa, pieces of Archaic kouroi findings.
North of the port, a causeway stretches out to the islet of Palatia and the unfinished Temple of Apollo. The Portara, as it is called, is a massive gate on the temple platform, alone gateway to nowhere. The temple was begun by the tyrant Lygdamis, who ruled Naxos from 545 to 524 BC, but it was unfinished at the end of his reign and never thereafter completed.
The daily life of Naxos Town centres on the waterfront, the Old Town and the Saint George Bay in the summer and most of the island amenities are to be found in Naxos Town.
Essentials
Polulation: 9,000

Beaches:
Saint George Beach (at the south part of the town)
Accommodation:
Hotels, Studios, Rooms, Apartments
Amenities:
Bus terminal to all areas of Naxos, hospital, doctors, dentists, banks, supermarkets, oil stations, museums, yacht marina, clubs, restaurants, jewellery, internet access up to 50 Mbps
Places to visit:
Archaeological Museum
Venetian Museum
Venetian Castle
The Old Market
Churches
Monuments
Portara
Portara is the most famous monument in Naxos. It is a gigantic gate, remain of the ancient temple dedicated to Apollo, which was built during the 6th century BC. It is located at the northern part of the port and can be seen from the ships which approach to Naxos.
The Venetian Castle
In 1207 Frankish rule was established in the Aegean. The Venetian Markos II Sanoudos built the fortress of Chora in Naxos with circuit towers, one of which, the Glezos tower (Crispi) is still preserved. Over the main entrance to the tower is the coat-of arms of the Crispi family. The castle area in Naxos Town is essentially a medieval town, preserved in the heart of the Aegean; it maintains more or less its original form. The castle is inhabited continuously from 1207 until today.